6 Home Improvements with the Best ROI
Unless you recently moved into a brand-new home, you probably have a list of home improvements you'd like to make. Whether you're renovating to get ready to list your home for sale, or you'd just like to make improvements for your own enjoyment, you're probably wondering how much of a return on your investment (ROI) you can expect with certain projects. First, consult with your real estate agent if you're selling your home. An experienced agent in your real estate market will be able to help you choose the repairs or cosmetic improvements most likely to help your home sell faster or for a higher price.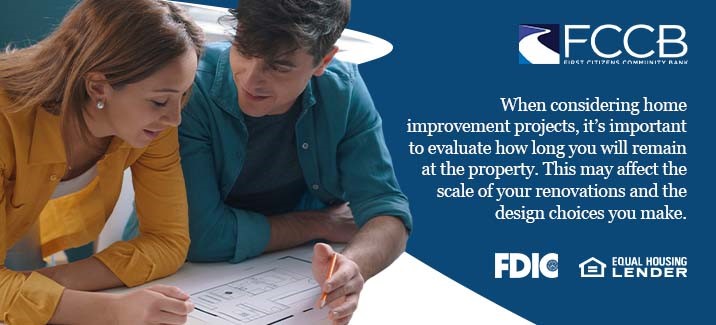 Of course, some home improvement projects are more expensive than others. Just as with any large investment, you'll want to take stock of your financial situation to make sure that you have the funds to cover your remodeling project without dipping into your emergency savings. If you require additional funds to get your project across the finish line, then you may want to apply for a home equity loan or home improvement loan. Keep reading to discover the 6 home improvement projects with the best ROI!
Kitchen Remodel
When it comes to the kitchen, bigger isn't always better. While no kitchen renovation is likely to yield a 100% ROI, a minor kitchen renovation has a higher potential ROI (81.1%) then a major project (59%). So, think carefully about why you are renovating and how much needs to be done to achieve your goal. For example, if you plan to stay in your home long-term and are mostly renovating your kitchen for your own enjoyment, go ahead and go big (as long as it's in your budget). Here are some ideas for minor and major kitchen remodel projects:
Minor Improvements
Paint cabinets or replace the fronts
Switch out your existing sink for a new one
Add or change backsplash
New countertops
New flooring
Fresh coat of paint on the walls
Matching set of stainless-steel appliances
Major Remodel
Instead of picking and choosing a few cosmetic updates, a major kitchen remodel usually involves changing everything about your kitchen–perhaps even the layout or size of the room. In a kitchen that is very outdated or in disrepair, a major remodel may be the best option for both your present enjoyment and future ROI.
Bathroom Remodel
Renovating your bathroom may provide the biggest bang for your ROI buck. You can expect to recoup about 70% of the cost of a midrange bathroom remodel. Here are some ideas for completely overhauling your bathroom or just making some cosmetic updates or repairs as needed:
Painting and refinishing cabinets
Putting in a new mirror
Updating lighting and other hardware
New ceramic tile floors and shower walls
New fixtures and shower head
New white toilet
New vanity and/or vanity top
Generally, a more upscale remodel or one that changes the layout/size of the bathroom isn't necessary to maximize ROI. As with all home improvement projects, go all-out if you are doing it for your own enjoyment and can afford the project cost.
Interior Paint
Giving the interior of your home a fresh coat of paint is a simple and relatively inexpensive way to give your home a facelift. If you are planning to spend time in your home, a new paint job tailored to your style can really refresh your interior spaces. If you are planning to sell your home soon, then you may want to opt for more neutral colors that will appeal to a larger group of potential buyers. In fact, a fresh coat of interior paint can provide an ROI of 107%, one of the few home improvement projects to offer a 100% ROI.
The best neutral interior paint colors tend to be in the white, beige, and gray color families. Look online for inspiration and specific color recommendations.
Exterior Improvements
The term "curb appeal" refers to the attractiveness of your home and its surroundings (yard and landscaping, porch, etc.) as viewed from the street. Boosting your home's curb appeal will make it look better in listing photos and attract more buyers to schedule a tour. Your best bets for exterior improvements include:
New landscaping
New or painted front door
New exterior paint or siding
Replace front walkway and steps
New mailbox, house numbers, and lighting
Garage Door Replacement
If your home features an attached garage, consider upgrading the garage door to improve the exterior appearance of your home, as well as the functionality of your garage. A new garage door offers a 97.5% ROI, making it an easy win for sellers. When it comes to replacing your garage door, you can choose between:
Sectional steel doors with the option to add window inserts, hardware, and different textures or colors.
Roll-up doors in steel
Slide-to-the-Side doors for garages without much head room
Side-hinged doors resemble barn doors and are most often made out of wood
Get financing for your home improvement project!
If you need help funding one of the home improvement projects on this list–or anything else–we can help! If you have enough equity in your home, a home equity loan can help you finance your project at an affordable interest rate. Learn more about using your home equity to make improvements to your home, find a contractor in your area, or use our home renovation loan calculator to test out different scenarios. Have questions? Contact our mortgage lending team today!