We support all areas of agriculture, from small family farms to large commercial operations. Over the years we've come across many unique and interesting stories we'd like to share with you.
Mt. Glen Farms Recieves Conservation Award
Congratulations to First Citizens Ag Advisory Board member Dean Jackson, the 2019 recipient of the Leopold Conservation Award, which recognizes farmers who are dedicated to land, water and wildlife habitat management.
Dean and his wife Rebecca own a 920-acre dairy, Mt. Glen Farms, in Columbia Crossroads, PA where they adopted no-till cover cropping to take up excess nutrients and reduce the amount of compaction on their farm. They also enrolled in the conservation reserve enhancement program to establish riparian force buffers to maintain their streambank, improve water quality, and reduce the amount of erosion coming off their fields. Their watershed flows into the nearby Mount Pisgah State Park, so it was important to the family to protect the area.
"Deep down joy can come from watching heavy rain and knowing that what we've done here in conservation is working," said Dean.
The USDA Natural Resources Conservation Service has had a partnership with the Jackson Family Farm since the 1960's, when Dean's grandfather, Scott became one of the early adopters of a conservation plan.
Lisa Graybeal Appointed to State Dairy Panel
Recently, House Majority Leader Bryan Cutler appointed local dairy farmer Lisa Graybeal of Graywood Farms (Peach Bottom) to the Dairy Future Commission. Lisa will serve on the Dairy Future Commission with state Agriculture Secretary Russell C. Redding and other key officials.
The panel is expected to evaluate the processing and marketing of dairy products, and the impact of state laws and regulations on farmers. Pennsylvania's $14.7 billion dairy industry has been in steep decline, forcing some farmers to sell their farms or diversify. Lisa says her personal mission is to, "Figure out the future of dairy. I want to know how dairy is going to survive, and how the next generations are going to survive this industry."
Today, Lisa works the 1,200-acre dairy farm which was established by her grandparents in 1942. She and her brother are the third generation to operate the dairy.
Congratulations Lisa! We're confident your life-long knowledge of the industry will be an asset to Pennsylvania dairy farmers as we navigate the changing industry and put milk back on our tables.
Jason & Kristie Ecenroad, Organic Cage-Free Broiler Houses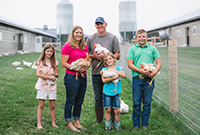 Jason and Kristi Ecenroad had a desire for one parent to stay home with their children, so they knew they needed a source of on-farm income. In 2014, Jason and Kristie began operating Organic Cage-Free Broiler Houses for Bell and Evans. Jason was new to the broiler production business, but with the support of his First Citizens Ag Banker, good friends, and the local community, he became skilled at raising high quality, organic chickens. "We were grateful to work with a Bank who understood the challenges of construction projects," said the Ecenroads. "First Citizens construction financing process was simple and cost-effective. At no point was financing the reason for any construction delay." The choice to produce organic chickens stemmed from the farm's proximity to the Bell and Evans processing plant, the availability of new producer contracts at the time, and the economic benefits and growth of consumer demand. In fact, total organic sales have more than doubled since 2006.
Briar Rose Greenhouse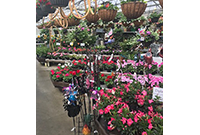 In 1998, Steve and Ruth Garman were married and Ruth wanted a "hobby" closer to home in East Earl, Pennsylvania and the idea behind Briar Rose Greenhouse was born. What typically comes to mind when someone says hobby, are things like knitting, painting, or tinkering in a shop. Not to Steve and Ruth. Their "hobby" has bloomed into a successful Garden Center with over 400 customers visiting daily during their peak seasons. And they've made it a family affair with all 6 children pitching in.
It's not just their unique selection of rare, top quality plants and gardening workshops that keep patrons coming back year after year. "First and foremost," Steve said, "everyone [here] has a unique personality that really shines through. We train our staff to be knowledgeable about the plants, but it's how they interact with customers that is so special."
And it's those qualities that drew Steve and Ruth to First Citizens. "We worked with Dwight Rohrer a few years ago when purchasing a property and we really connected with his honesty and down to Earth personality," Steve explained. "We recently we worked with Jeff Bollinger and find he and Dwight to be great to work with because they understand that to us, old fashioned communication is key. There's just something special about the feeling of satisfaction that you get when interacting with your customers and seeing the smiles on their faces when they buy plants to beautify their home. We get that same feeling when we work with First Citizens."
So start your spring planting off right by visiting The Briar Rose Greenhouse located 1581 Briertown Rd in East Earl, PA.
Cage-Free Egg Producers - Kevin and Kayla Frey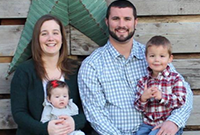 In 2015, when Kevin and Kayla Frey had the opportunity to purchase property in Elizabethtown, they turned to our Ag Lender, Jason Landis, for advice. "We had a desire to build a chicken house on the property to support the farm purchase," Kevin said. "But we needed guidance." Jason introduced the Frey's to Hilandale Farms, and before they knew it, the Frey family had signed a contract for cage-free egg production with Hilandale Farms. Construction commenced after the purchase, and they built a barn to hold up to 30,000 organic brown hens. Over the past four years, the chicken house has become a family affair; the whole family can pack eggs together! And family is important to Kevin. He was raised on a dairy and poultry farm located less than a mile away from their property in Elizabethtown. "Farming near my parents has been a gift," said Kevin. "It's something not every family has the chance to do." Kevin and Kayla wanted their children to grow up on the farm, immersed in agriculture. They're hoping to instill the work ethic they learned as children in their own family.
"It brings me joy to know I helped Kevin and Kayla find their niche in farming somewhere close to home," mentioned Jason. "I can relate to the Frey's desire to engage their children in Agriculture." Jason grew up on his family farm, which he rents and operates today. "When I got married, my wife and I realized we want our children to be aware of agriculture, too. That's why I'm proud to be part of an organization that supports young farm families in reaching their Agricultural goals."
Backroad Creamery, Bridging the Gap Between Farm and Table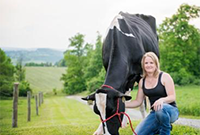 Did you know it takes 10 lbs. of milk to make one pound of cheese? Or that Turophile, pronounced tu·ro·phile, means cheese lover? Well fellow Turos, we don't need to know all the facts about cheese to know we love the stuff. And we're in luck because great cheese makers can be found in many of our neighborhoods. One worth seeking out if you live in the Troy area is Backroad Creamery.
Amanda Kennedy is a 6th generation dairy farmer who committed herself to the production of high-quality milk, turning it into artisan cheese! Before opening Backroad Creamery in October 2016, Amanda spent years studying the art of cheese making, learning the techniques and background for the production of different cheeses.
From farm to table, Amanda takes each step seriously. She milks a handful of purebred Holstein cows, backed by some of the breed's best pedigrees. Her cows are exhibited at different shows across the country, and their genetics are marketed via embryos and stud sales.
Amanda's business, which is located in Columbia Crossroads, began with cheese curds, which she now produces in some interesting flavors like Crazy Cajun, Garlic Dill, and Buffalo Ranch. She has since added block cheese and Farmhouse Feta to her line.
To learn more, or order some of Amanda's tasty products, follow Backroad Creamery on Facebook or visit BackroadCreamery.com. You'll be glad you did!
Brecknock Orchards and Farm Market - It's a Family Affair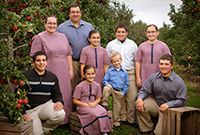 Like many Pennsylvania farms, Brecknock Orchards is a family affair. It began in 1994 when Earl Martin purchased the farm. Shortly after, Earl's son Daryl and his wife Andrea took on the farm operations as the second generation. Now their children, the third generation, are involved in the day-to-day activities.
Brecknock Orchards and Farm Market, located at 390 Orchard Road, Mohton in Lancaster County, is known for their quality fruits and vegetables. What folks may not know, is that a primary goal for the family is to use a method called Integrated Pest Management (IPM) that compliments the biological and natural controls of pests. The health of their farm, the environment, and their customers are a priority for the Martins.
Also, a priority for the family is to share the farm experience with their customers for lasting family memories. You can bring the family to pick your own fruit, or experience a day of family fun at one of their festivals — Strawberry in June, Peach in August and a Fall Festival in September and October. Enjoy food prepared with freshly picked ingredients while having fun on hayrides, kids games, crafting, and mazes. There's always a lot to learn at Brecknock Orchards.
Antler Ridge Winery - Rome, PA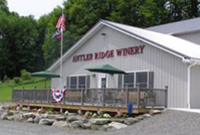 Over twenty years' ago, Stephen Unis began making homemade wine from scratch, and it was then he discovered his passion. Today, he and his wife, Christine, run Antler Ridge Winery. Their philosophy is simple--create the best wine with the best customer experience possible.
All grapes are hand-selected, chosen carefully to ensure the proper ripeness and readiness. A state-of-the-art tank room is controlled electronically to maintain the precise temperature required during fermentation. At Antler Ridge Winery, the reds are aged in French and American oak barrels until they are ready to be bottled.
They currently sell over thirty wine varieties in their five Pennsylvania locations in Ulster, Waymart, Hawley, Mertztown and Jim Thorpe. If you want to test your talents for winemaking, give them a call in the fall and order fresh pressed juice from their farm along with other winemaking supplies.
Congratulations to Stephen and Christine on being successful doing what you love. Cheers!
Wilcox Farms - Let the Fun Begin!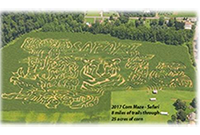 In 1946, Judy Schultz's grandparents began growing tomatoes for Campbell's Soup. In the early sixties, the family built a roadside stand that would transform the business, Wilcox Farms, into a family affair growing and selling fresh produce year-round and running one of the coolest corn mazes in the state. The Farm, which is located on the outskirts of Boyertown, added an ice cream parlor in 2003 serving locally made Nelson's Ice cream. Next came the corn mazes - over eight miles of trails wind through a 25-acre cornfield. Kids and adults can also enjoy a play area, tractor hayrides, and a pumpkin patch. Seventy-one years' later, this 4th generation family farm is still giving other families something to smile about!
Linford Snyder - Collett Farms, LLC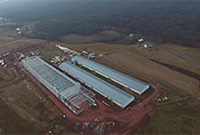 Linford Snyder has seen just about everything in the farming industry. He was only fifteen when his father passed away and he chose to drop out of school and take over the family dairy operation. Since then, Linford has started and operated a variety of farms and other businesses. In 1985, he and his brothers began an excavating and concrete business, which is now managed by three of his sons. In 1990, Linford shifted his farming focus to hogs, which his brothers still run today. Then came turkeys, veal, ducks and eventually layers.
Linford began raising layers when he contracted with Penn Embryo to produce eggs for the manufacture of flu vaccines. In time, he converted this business into an independent contract with Deb-El Foods, sending eggs to New Jersey and New York for liquid eggs. More recently, Linford collaborated with an individual who builds large cage-free aviary houses. Their operation has a total of 1.2 million layers and 700,000 pullets and has become a vertically integrated business that now ships eggs to Deb-El Foods for table eggs in addition to liquid eggs.
Linford's business ventures have not stopped with poultry. He also owns the Lebanon Valley Truck Wash as a biosecurity measure for other farmers, runs the Fredericksburg Livestock Auction, and is a partner in a discount grocery store adjacent to the auction.
Linford has a long history of helping young families get started in farming. He buys farms and teaches them how to run them, then eventually sells them to the family. According to Linford, "Sometimes, you just need help to get it going. I know there are good people everywhere, and I like to be one of them."
Paul Manning - Manning Farm Dairy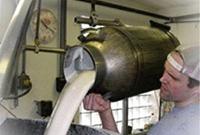 Manning Farm Dairy is a 4th generation dairy farm located in Dalton, PA. In 1920, Paul Manning's grandfather purchased the farm as a dairy operation and the family went door-to-door delivering fresh bottled milk to locals. It continues to be a family operation today as two sons who graduated from Cornell, and one who graduated from Princeton, have chosen the family dairy as their career.
In 1964, the dairy began making ice cream. Manning's homemade ice cream starts well before the cream and sugar. They grow 95% of what their 75 Holsteins eat, and are the only dairy in all of Lackawanna County that exclusively uses their own milk in all of their dairy products. Paul says their milk is pasteurized the old-fashioned way, using low-temperature vat pasteurization. Although this takes longer, the results are worth it – and their customers agree. In the summer months, they serve 55 flavors but have the ability to make more than 160. Batches are made in 5-gallon portions, with hand-swirled ingredients. After being stored overnight, the ice cream is delivered to one of their five stores the next morning. The next stop, your cone!
Randy & Judy Good - Flying High Farms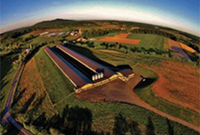 Randy and Judy Good operate Flying High Farms, with over40,000 free-range chickens. Although they both grew up on a dairy farm, they took different career paths which didn't leave much time for their growing family. So in 2012, they made a decision to change all of that when they decided to do more than just live on their 40 acres southwest of Selinsgrove. The idea of free-range chickens was appealing to them, so they learned all they could from other successful free-range egg farmers and built two 20,000 hen barns in 2013. Their 40,000 chickens have 3 square feet of pasture per bird, exceeding the standard for free-range. They ship about 260,000 eggs per week that are marketed as cage-free, free-range by Pete and Gerry's and Nellie's Nest. But their interests don't end there – Judy continues to work part-time as an MRI technician and Randy grows beans and corn, is a volunteer firefighter, and an EMT. He's also a licensed pilot and he and a friend have an aerial photography business.
Congratulations Good family for finding a way to live well, enjoy what you do, make time for family, and help support the growing market for free-range eggs!
Larry & Marilyn Kennel - The Vineyard at Grandview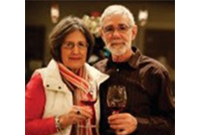 The Vineyard at Grandview is a family owned and operated vineyard located in northwestern Lancaster County. Larry began wine-making as a hobby about eight years ago, and after positive feedback from taste-testers, asked his wife, daughters, and sons-in-law to join him in the wine industry. The family grows premium vinifera grapes - Cabernet Sauvignon, Merlot, Chardonnay and more, and their Bordeaux blend recently won the prestigious double gold award for its Grande Rouge, a Bordeaux blend, three silver awards, and a bronze at the San Francisco International Wine Competition, one of the most prestigious international wine competitions. In addition to the winery, Larry, a large animal veterinarian by trade, along with his wife, Marilyn, operate Cornerstone Genetics, which specializes in embryo transfer in cattle. Congratulations, Larry and Marilyn, on all your success!
Rick & Veronica Mead - Sylvester Quality Meats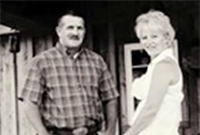 Mead along with their daughter. Rick is currently the 3rd generation on the family farm located in the hills of Westfield in Tioga County, PA. The farm consists of 250 acres with Angus/Simmental crosses grazing in the fields, and a USDA Federally inspected butcher shop, which the family opened to the public in 2007. The shop has the capacity to run 30 head of beef and 25 hogs per week, along with chickens, lambs, and goats. The operation currently employs 12 and sells PA Preferred products and follows Beef Quality Assurance Guidelines. In 2015, Rick and Veronica opened a retail store that sells steaks, roasts, sausage, and bacon. Congratulations, Rick and Veronica, on all your success!