3 Ways that Businesses Can Leverage Online Banking Services
Owning a business has never been easy, but these days it can feel like there are more challenges than ever for entrepreneurs. At FCCB, we are your partner for business. We are always looking for ways to help business owners increase efficiency, better manage cash flow, and support the growth you're aiming for. In this guide, we'll help you understand remote electronic banking and how it gives modern business owners the flexibility and safety needed in today's complicated environment. The ability to make remote deposits, pay bills, or review accounts remotely meshes perfectly with the at-home work routine adopted by many businesses.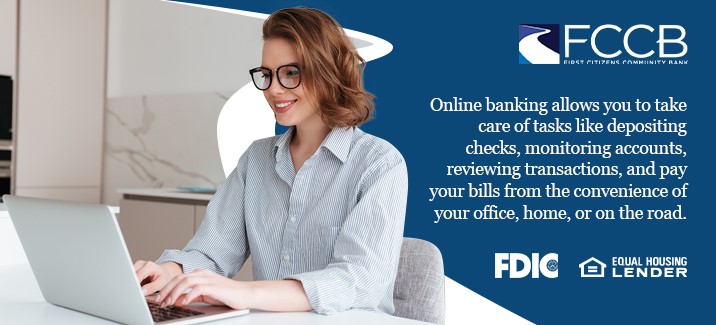 What is Remote Online Banking?
Remote online banking allows business owners to create an online banking account, which businesses can access from any location with an internet connection. Business owners can use their online banking accounts for everything from depositing checks to paying bills, transferring funds, and much more! At FCCB, we use the highest level of encryption to keep your information safe and help you reduce fraud, so clients using remote online banking can take care of business safely and securely.
Increase efficiency with Online Business Banking and Bill Pay
Review online statements
View current balances and transaction history
Set up one-time and recurring transfers
Request a "stop payment"
Schedule business loan payments
Pay bills, employees and vendors online
Download account details to your accounting software
How to Leverage Online Banking for Your Business
Now that you understand how business banking works online and the features it offers, let's look at the specific ways online banking can benefit your business.
Save Time
Online banking allows you to take care of routine tasks like depositing checks, monitoring accounts, reviewing transactions, and paying your bills from the convenience of your office, home, or on the road. No commutes to and from a branch or ATM, no more sitting on hold with customer service - just log in and take care of business.
Remote deposit is a particularly helpful tool provided by FCCB. With this online banking service, you'll receive a scanner that will read endorsed checks, and after your review the scanner will pass the scanned information directly to the bank. This is especially useful for businesses with multiple locations, as each location can use a remote scanner to deposit into the same account. FCCB will help you with the installation and training, and you can take it from there. Remote deposit can improve your cash flow with faster funds availability. It also reduces the amount of returned items and payment fraud, as well as errors and lost checks. When checks clear faster, you can identify and deal with fraudulent checks sooner.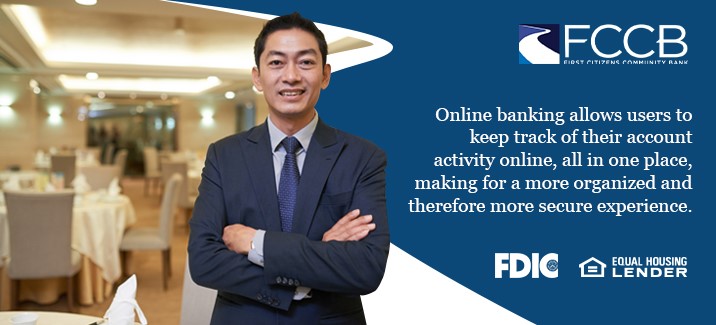 Gain Peace of Mind
FCCB's online banking system is encrypted, and our online accounts are actively monitored for fraud. Further, banking actions taken in this system happen immediately, so you can be sure that your deposits and transactions make it to where they need to go once you submit them. Online banking also allows business owners to keep track of their account activity online, all in one place, making for a more organized and therefore more secure experience.
FCCB provides specialized fraud protection services for business accounts. These include:
Check Positive Pay: Proactive audits ("positive pay") of checks means that you send us a list of the checks your business issued and we'll make sure they are the ones charged to your account. When a discrepancy occurs, you can review it in online banking and have the option of paying or returning the check.
ACH Block & Filter: Automated Clearing House (ACH) payments allows you to designate the businesses that are authorized to debit your account. We'll return any other payments or block them outright.
Multi-Factor Authentication (MFA): Protects your online banking account by requiring more than one login credential to validate the identity of authorized users. Also automatically monitors your accounts for unusual activity based on account history.
Corporate Account Takeover (CATO): This is a type of cybercrime in which a business' bank account is taken over by hijacking browser sessions or stealing online banking credentials. We can help you mitigate the risk of falling victim to CATO.
Merchant Card Services
If you want to start accepting credit and debit cards from your customers, or you're unhappy with your current provider, our Merchant Card program provides advanced and secure card processing services along with the most competitive rates in the industry. And for most industries, funds are available the next business day. Plus, a single, local expert is available to help you in addition to US-based technical support 24/7.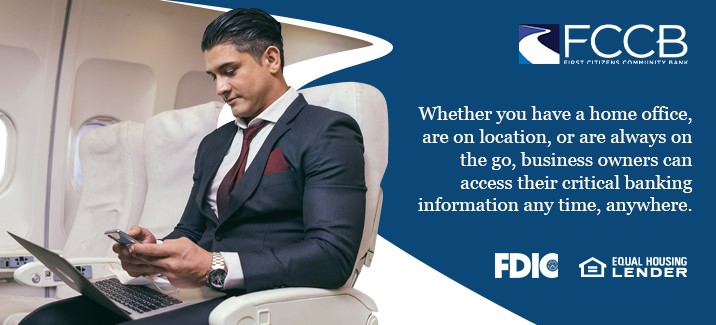 Bank From Anywhere
Whether you have a home office, are on location, or always on the go, business owners can access their critical banking information anytime, anywhere, while enjoying maximum online banking security. This sort of flexibility allows entrepreneurs to prioritize their work while not neglecting the key details of their finances.
FCCB's online banking services allow business owners to access online accounts, sign up for eStatements, schedule electronic bill payments in advance, and integrate with accounting software like Quickbooks. The only thing that's needed to access your account is a stable internet connection. FCCB uses a highly encrypted system and connection, so you can be sure of your information's safety even when on the go.
FCCB is your partner for business!
Growth strategies differ from business to business, but all business owners must grapple with the question of how to fund that growth. Whether you're a sole proprietor, a husband and wife partnership, or a larger operation, we have the products and people to help you save time, improve sales, efficiently manage cash flow, and grow your business. Contact us today to schedule a free consultation!