Should I Get a Business Credit Card?
Businesses of all sizes need funding to help cover both everyday expenses and large, one-time purchases. If you are just starting out as a business owner, you may not have the income or credit history to qualify for the business loan you need. Luckily, business credit cards are easier to obtain than traditional loans. When you apply for a commercial credit card, you give your business access to immediate funding and set yourself up to qualify for future loans. Here is what you should know before deciding if a business credit card is right for you.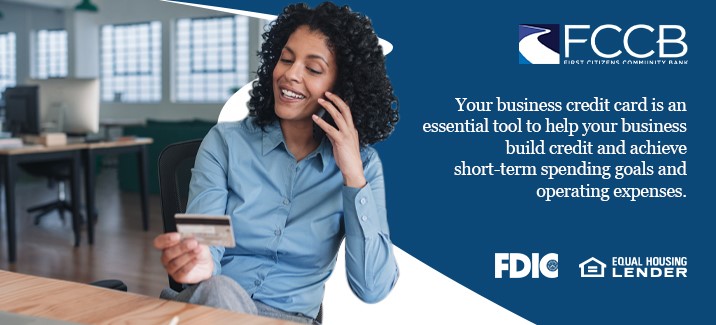 What is a business credit card?
Business credit cards are very similar to personal credit cards. Credit cards are a revolving line of credit from which you may borrow and repay over time. Purchases not paid off by the statement due date begin to accrue interest, and interest rates vary by borrower and credit card. If the credit card charges annual fees, they may be tax deductible on either a personal or commercial credit card if the card is used for business expenses. Whether you are a freelancer or a large corporation, we offer business credit cards to help your business grow.
What makes a business credit card different?
Here are just two differences that set commercial credit cards apart from personal credit cards.
Higher credit limits
Whether you are stocking up on inventory or purchasing new office furniture, business spending can add up quickly. Most banks offer higher credit limits on their business credit cards to help business owners cover the high cost of operations. The credit limit you are offered on a commercial credit card will likely depend on your credit worthiness, personal income, and business revenue.
0% APR offers
If you need to borrow money for your business, a new commercial credit card offering a 0% APR introductory rate can give you a couple months to get your finances in order. At FCCB our business credit cards offer 6 months of 0% APR* on purchases and balance transfers. For some, this may be the best choice for consolidating debt.
Why should I get a business credit card?
You may still be wondering, "Is a commercial credit card right for my business?" Because business credit cards are available for businesses of every size, the benefits of using a commercial credit card vary depending on your needs. If you operate a business, you could benefit from the following advantages of a business credit card:
Easily find tax deductions
If you are still using a personal credit card for your business spending, you know that mixing business expenses with your personal finances can be messy. Spending hours sorting through your credit card statements to find last year's business deductions is not necessary. Using a commercial credit card for your business spending makes it easy to calculate deductions at tax time.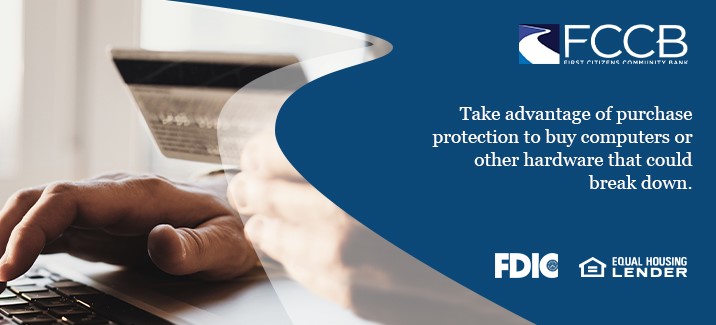 Improve cash flow
The right Business Credit Card can help keep your operation moving when cash flow is tight. And, by paying your vendors and utilities with a Business Credit Card, you can extend the time between buying what you need and putting out the cash to pay for it.
Build your business credit
Building up your business's credit score isn't going to happen if you only use a personal credit card. A commercial credit card will help you demonstrate financial responsibility in terms of business debt. Building your business credit will help you get approved for higher reward credit cards and business loans in the future by reporting your credit activity to commercial credit bureaus. Dun and Bradstreet, Experian Business, and Equifax Small Business monitor your commercial credit card activity and apply it to your business credit score. Some business credit cards report to both the personal and commercial credit bureaus. This can be beneficial if you want your business spending habits to enhance your personal credit score as well as your business credit score.
Bonus rewards for business spending
Luckily for business owners, cash back and reward credit cards are not just for personal use. Commercial credit cards offer these same types of benefits and often tailor them to meet the needs of business owners. Instead of earning rewards for grocery store spending, business card holders may be rewarded for phone and internet spending. If you tend to spread your spending out over many different categories, a flat rate reward business credit card may be best. If you purchase business supplies using the rewards from your commercial credit card, consult your tax advisor as they may not be tax deductible.
Monitor Employee Spending
Many commercial credit cards offer the ability to add multiple card holders. Each card can be linked to the main business account, but individual spending limits can be set for each employee. Rather than reimbursing employees for business purchases, commercial credit cards allow them to make the purchases they need to keep your business running. You can monitor their spending with detailed reports and adjust purchasing limits whenever you need.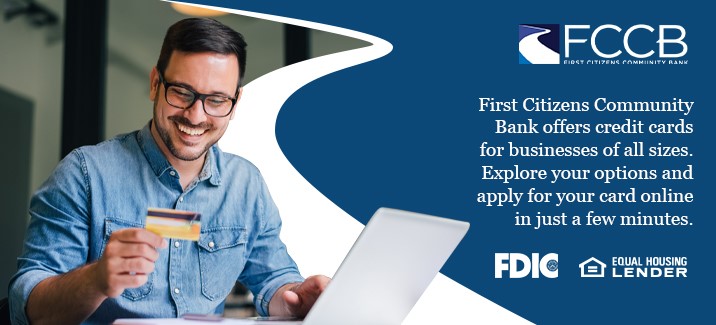 How do I apply for a business credit card?
Applying for a commercial credit card is simple and can even be completed online. Your lender will use your personal credit history and business income to determine if you qualify.
At FCCB, we provide commercial credit cards with no annual fee, cashback and reward plans, and extensive safety and convenience features for our valued community businesses. Contact us today to learn more about how a commercial credit card can benefit your business.
*See the card application's Important Disclosures for current terms, rates and fees. This card is issued by TCM Bank, N.A. Subject to credit approval.