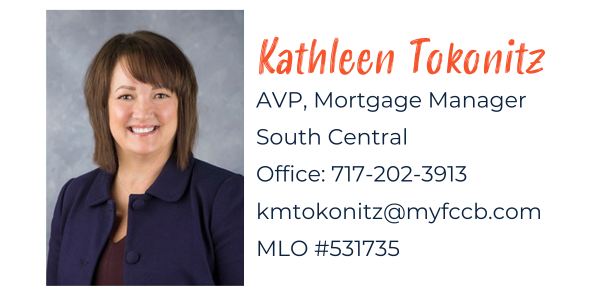 More Than Just a Lender
FCCB is here for all your mortgage needs. From Refinance to Purchase and everything in between, FCCB has you covered!
Our goal is to provide a superior mortgage lending experience. That means going above and beyond normal expectations and delivering exceptional service each and every time.
---
"I worked with Kathleen on three different occasions. Every time was more and more enjoyable. Kathleen would work long hours just to accommodate our work schedules. It was nice to communicate with someone as courteous, respectful, and helpful with any questions we had. She made home buying a painless process. I would recommend Kathleen Tokonitz to anyone looking to purchase a home."
-Angela DiCello,
Customer
"Years ago, my wife and I were looking for a loan officer to help us with a mortgage loan. A number of reputable people recommended Kathleen Tokonitz. Two home purchases and a new construction later, we wouldn't think of reaching out to any other loan officer. Kathleen has been in the mortgage lending business for quite some time and has many great contacts that a buyer may need to turn to during the process (appraisers, home inspectors, insurers, title companies, etc.). There can be a variety of unforeseen matters that arise during a home purchase or new construction. Having Kathleen as our lender gave my wife and me a sense of calm during what can be a stressful experience. If we were to ever buy or build again (I hope not), Kathleen would be the first call I make."
- Jim Spotts
Customer
"For 20 years, I have trusted Kathleen Tokonitz in assisting my clients, friends, and family with their lending needs. Kathleen is knowledgeable about mortgage products and works with buyers to choose a product that best suits the buyer. If there are challenges along the way, she is equipped to face such head-on and is a good problem solver. One key in real estate is communication and keeping our buyers and sellers alike informed along the way. Kathleen is always responsive. Like Realtors, Kathleen is not just a 9 am-5 pm lender. She is available to her clients as they need. Kathleen is a top-notch lender."
-Tara Furer- Romig,
Associate Broker
About Me
Kathleen is an experienced mortgage lender who has spent more than 30 years in the banking field. Over the years, she's worked with everyone from the first-time homebuyer to the most experienced of borrowers, whether purchasing or refinancing.
A Schuylkill County native, Kathleen is pleased to serve her local community's mortgage needs. She is a current member of the Make-A-Wish Foundation, the Schuylkill County Chamber of Commerce, and the Schuylkill County Board of Realtors Association.
Why FCCB?
At FCCB, we believe investing in our communities encourages growth and helps our local economies thrive. We continue to help our customers succeed and strive to make it happen for you!
When you work with us, you can expect:
The utmost care and attention from a hard-working team.
Mortgage Products and solutions tailored to your needs.
The latest technology in mortgage lending enabling a fast an efficient loan process. We care deeply about the happiness and success of our customers and are trained to turn that care into action.
We dare to be different.
Contact Us
Kathleen Tokonitz
AVP, South Central Mortgage Manager
Mortgage Division
First Citizens Community Bank
47 W Main Street
Schuylkill Haven, PA 17972
Office: 717-202-3913
MLO # 531735