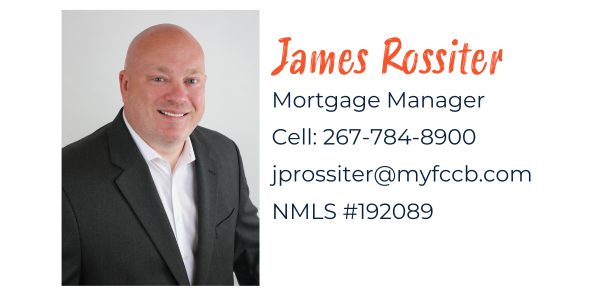 More Than Just a Lender
FCCB is here for all your mortgage needs. From Refinance to Purchase and everything in between, FCCB has you covered!
Our goal is to provide a superior mortgage lending experience. That means going above and beyond normal expectations and delivering exceptional service each and every time.
---
"Jim, thank you for making my shore home a reality. I appreciate you jumping in when my bank could not get it done. Your knowledge and expertise in the condo process made this possible. Thanks again!"
-Bill Hubbard
Customer
"Jim, a big thank you to you and your team! Getting us a point lower than 3 other banks made buying our shore house a lot less stressful. You guys have a seamless process! We can't thank you enough! Definitely recommending you to family & friends!"
-Colleen Giordano Harter
Customer
"Jimmy, thanks for everything with our shore house! We closed with no problems and the rate was a point and a half lower than what I was originally quote by two other companies!"
-Steve Grau, Jr.
Customer
About Me
As an experienced Loan Officer in the mortgage industry for many years I know how important it is to get accurate and timely information regarding the best mortgage to suit your needs.
I have the skills and knowledge to create a seamless mortgage transaction for my clients.
I pride myself in exceeding my clients' service expectations by maintaining good communication throughout the loan process and by being available on nights and weekends.
I am committed to providing you with the superior service you deserve! Contact me today to get started!
Why FCCB?
At FCCB, we believe investing in our communities encourages growth and helps our local economies thrive. We continue to help our customers succeed and strive to make it happen for you!
When you work with us, you can expect:
The utmost care and attention from a hard-working team.
Mortgage Products and solutions tailored to your needs.
The latest technology in mortgage lending enabling a fast an efficient loan process. We care deeply about the happiness and success of our customers and are trained to turn that care into action.
We dare to be different.
Contact Us
James Rossiter
Mortgage Manager
Mortgage Division
First Citizens Community Bank
1800 Byberry Road, Suite 900
Huntingdon Valley, PA 19006
Cell: 267-784-8900
[email protected]
NMLS # 192089