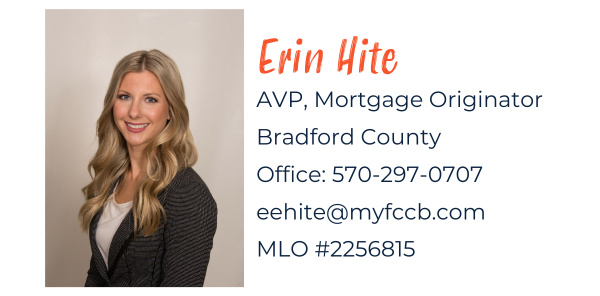 More Than Just a Lender
FCCB is here for all your mortgage needs. From Refinance to Purchase and everything in between, FCCB has you covered!
Our goal is to provide a superior mortgage lending experience. That means going above and beyond normal expectations and delivering exceptional service each and every time.
---
"I have nothing but good things to say about Erin Hite and my experience with First Citizens Community Bank. Erin was knowledgeable, friendly, and understanding. As first time home buyers with a time constraint, we had a lot of stress and questions. Compared to the other three banks we reached out to, Erin was the only person who was personable and validated our situation and questions. She helped walk us through each step and when we did not fully understand something, she was very willing to break it down for us. I believe Erin did everything she could for us to get good rates during a crazy housing market.
I have already recommended Erin to a family member who as well is a first time home buyer. I will continue to recommend Erin to any family or friends who are looking for a mortgage.
I was not aware of FCCB in our initial mortgage search. My grandmother, who worked at a different bank for 25 years, had a friend connected to FCCB. She brought it up and that led me to look into FCCB. I am so glad I did because that led me directly to Erin. I honestly do not think we would have made our deadlines or received the support we did from Erin from any other bank that I applied to.
The cherry on top of my whole experience is that Erin made a personal appearance to our closing. From what I have been told by many others, representation from the bank at closing has become rare. Erin traveled probably around 1.5 hours to meet us for our closing in Tunkhannock, PA. I greatly appreciated this as we were finally able to put a face to her voice and we had her expertise for any last questions and explanations at closing."
- Shelby Valvano
About Me
As an experienced Loan Officer in the mortgage industry for many years I know how important it is to get accurate and timely information regarding the best mortgage to suit your needs.
I have the skills and knowledge to create a seamless mortgage transaction for my clients.
I pride myself in exceeding my clients' service expectations by maintaining good communication throughout the loan process and by being available on nights and weekends.
I am committed to providing you with the superior service you deserve! Contact me today to get started!
Why FCCB?
At FCCB, we believe investing in our communities encourages growth and helps our local economies thrive. We continue to help our customers succeed and strive to make it happen for you!
When you work with us, you can expect:
The utmost care and attention from a hard-working team.
Mortgage Products and solutions tailored to your needs.
The latest technology in mortgage lending enabling a fast an efficient loan process. We care deeply about the happiness and success of our customers and are trained to turn that care into action.
We dare to be different.
Contact Us
Erin Hite
AVP, Bradford County Mortgage Orignator
Mortgage Division
First Citizens Community Bank
1133 W Main St
Troy, PA 16947
Office: 570-297-0707
MLO # 2256815