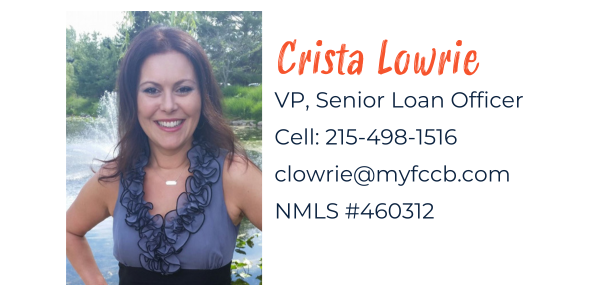 More Than Just a Lender
FCCB is here for all your mortgage needs. From Refinance to Purchase and everything in between, FCCB has you covered!
Our goal is to provide a superior mortgage lending experience. That means going above and beyond normal expectations and delivering exceptional service each and every time.
---
"Crista, thank you SO MUCH for your quick responses and making us feel comfortable with everything. Thank you for always letting us know our next steps. You all have been amazing and we couldn't thank you enough for going through this chaotic time with us."
– Jenna & Sal C.
Customer
"Thank you, Crista and Team! Always a pleasure, you all are awesome. Thank you for helping me close on time. This was a great experience and love the second home."
– Nate S.
Customer
"Many thanks to Crista for walking us through the process, and responding to our questions!!"
- Kevin & Cynthia S.
Customer
"I am sending this on behalf of myself and my family to say thank you. From the very first day, you helped me understand everything that had to be done and the steps that needed to happen in order for me to purchase a home. In March 2022 I became a homeowner. Thank you for all your hard work!"
-Fola S.
Customer
About Me
Crista has been in the mortgage and credit industry since 1989, receiving many awards for outstanding achievement. She has been featured in several magazines such as Philadelphia Magazine as a multi-year recipient of the Five Star Mortgage Professional Award, which is given to the top 7% of mortgage professionals in the Delaware Valley who have provided exceptional service. Crista has been recognized as a Top Originator in the Scotsman Guide, as well as a Top Originator with the Pennsylvania Finance Housing Agency (PHFA).
Crista has extensive knowledge of conventional, government, and specialty mortgages, and offers no-cost help with credit if needed. Crista also teaches home buyer classes for first time buyers. Her goal is to help everyone realize the dream of homeownership.
"No matter how many houses you buy or refinance, you still need someone to get you through the process smoothly. I am proud to be an experienced Advisor, not just a mortgage order taker. Whether you're ready to buy now, or just need a game plan for the future, I can help. Together, we'll figure out the best game plan for your lifestyle"
In maintaining these varied responsibilities, she has proved herself a brilliant problem-solver intent on helping her customers. Crista believes her success as a branch manager stems from her focus on the client and love for her role. Her goals continue to include strengthening client services and securing the best possible mortgages for each of her clients.
Why FCCB?
At FCCB, we believe investing in our communities encourages growth and helps our local economies thrive. We continue to help our customers succeed and strive to make it happen for you!
When you work with us, you can expect:
The utmost care and attention from a hard-working team.
Mortgage Products and solutions tailored to your needs.
The latest technology in mortgage lending enabling a fast an efficient loan process. We care deeply about the happiness and success of our customers and are trained to turn that care into action.
We dare to be different.
Contact Us
Crista Lowrie
VP, Senior Loan Officer
Mortgage Division
First Citizens Community Bank
593 Bethlehem Pike, Suite 3
Montgomeryville, PA 18936
Cell: 215-498-1516
[email protected]
NMLS # 460312