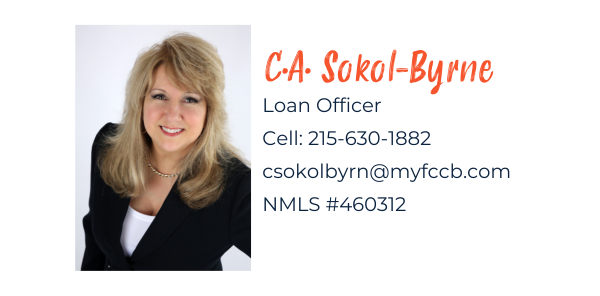 More Than Just a Lender
FCCB is here for all your mortgage needs. From Refinance to Purchase and everything in between, FCCB has you covered!
Our goal is to provide a superior mortgage lending experience. That means going above and beyond normal expectations and delivering exceptional service each and every time.
---
"We met CherylAn in 1996 when we bought our first house. She has taken care of our mortgage needs ever since. She will be the only person we will ever call when it comes to our mortgage!"
-Mike & Tina S
Customer
"Sometimes all someone needs is a kind person willing to give them a chance and guide them to do great things. C.A. took the time to help me, and today I have a home for my kids."
-Tanesha T.
Customer
"I can't wait until someone asks me about buying a house so I can tell them to go to C.A.!"
-Andrew H.
Customer
"Thank you so much for everything you did for our refinance! You are leaps and bounds above everyone else we approached. You did more than just give us a mortgage; you gave a loving couple an opportunity to start a new life. "
-Heath C.
Customer
About Me
CherylAn ("C.A.") has been in the mortgage and credit industry for over 20 years, receiving many awards for outstanding achievement. She is a Mortgage Loan Officer with FCCB, and has been recognized in Philadelphia Magazine as one of the top 7% of Mortgage Professionals in the Delaware Valley who have provided exceptional service.
Today, C.A. continues to help people with residential home buying and refinancing. She has an underwriting background and thorough knowledge of Conventional, FHA, VA, USDA, PHFA, Construction and Rehab mortgage loans. She also assists buyers with grants and down payment money, and with her extensive credit knowledge, is happy to create a game plan for those who aren't quite ready to buy.
Why FCCB?
At FCCB, we believe investing in our communities encourages growth and helps our local economies thrive. We continue to help our customers succeed and strive to make it happen for you!
When you work with us, you can expect:
The utmost care and attention from a hard-working team.
Mortgage Products and solutions tailored to your needs.
The latest technology in mortgage lending enabling a fast an efficient loan process. We care deeply about the happiness and success of our customers and are trained to turn that care into action.
We dare to be different.
Contact Us
C.A. Sokol-Byrne
Loan Officer
Mortgage Division
First Citizens Community Bank
593 Behtlehem Pike, Suite 3
Montgmeryville, PA 18936
Cell: 215-630-1882
[email protected]
NMLS # 460312