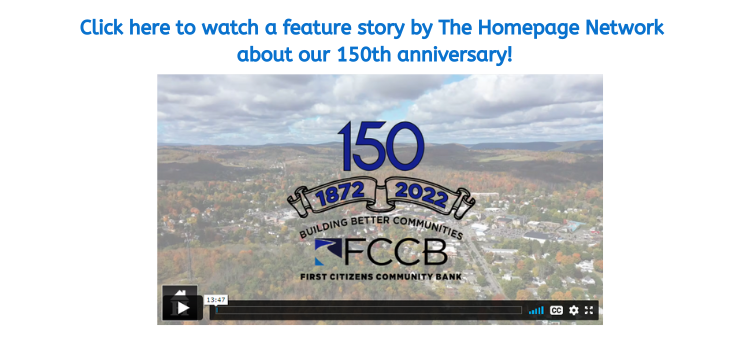 | | |
| --- | --- |
| | As part of our 150th Anniversary celebration, FCCB will donate 150 trees to local organizations Pictured are Misti Machmer (Office Manager, Canton) and Janet Homes (Regional Manager) gifting trees to the Canton Elementary School for an annual project. |
| Lura Taub, Branch Operations Manager in our Wilmington, DE office gave away 150 Anniversary Piggy Banks to Students in Delaware as part of her Teach Kids to Save Classroom Visits. | |
| | We brightened the day for many with the delivery of 150 bunches of daffodils to two different nursing home facilities in Tioga County. It was a beautiful thing and the residents and staff were delighted! |
| On behalf of the FCCB Ag Team, Erin Cole, Chris Landis and Ian Weaver pose with Mindee Lyon from the Central PA Food Bank. Our Ag Team donated $1,500 in honor of our 150th year anniversary! | |
Check Out Our Most Recent Customer Winners For Our 150th Anniversary Drawing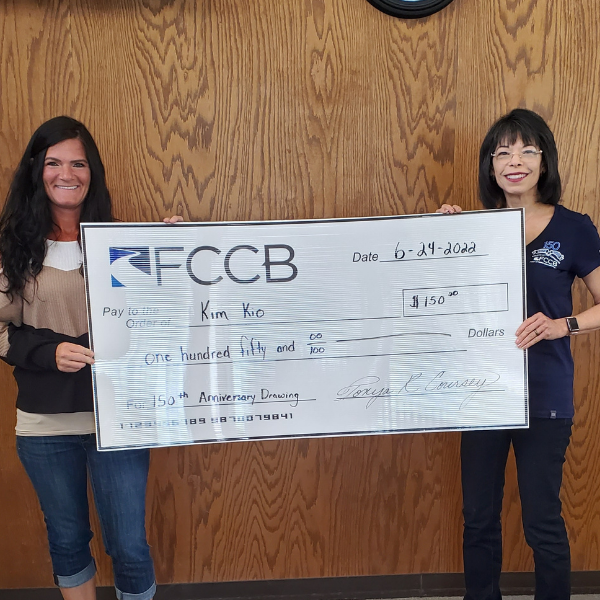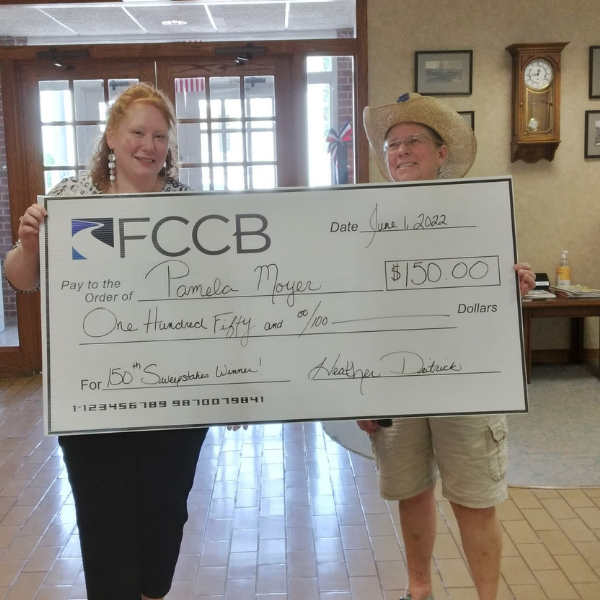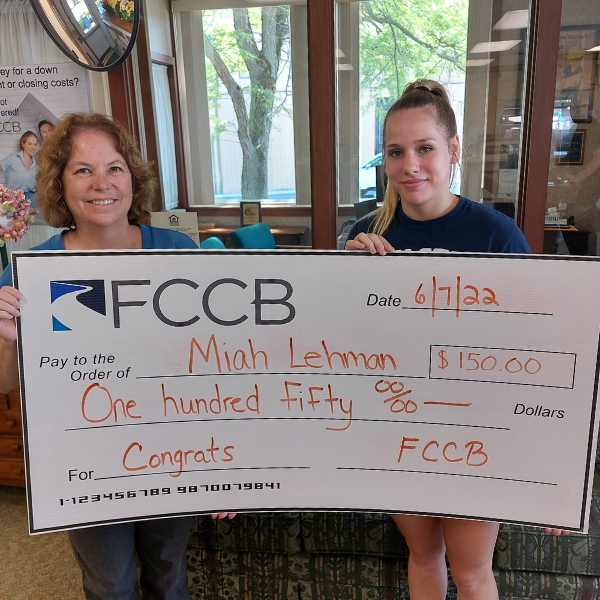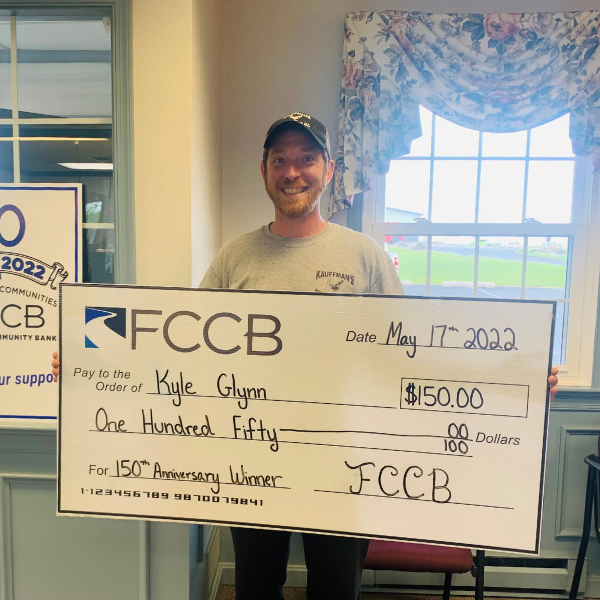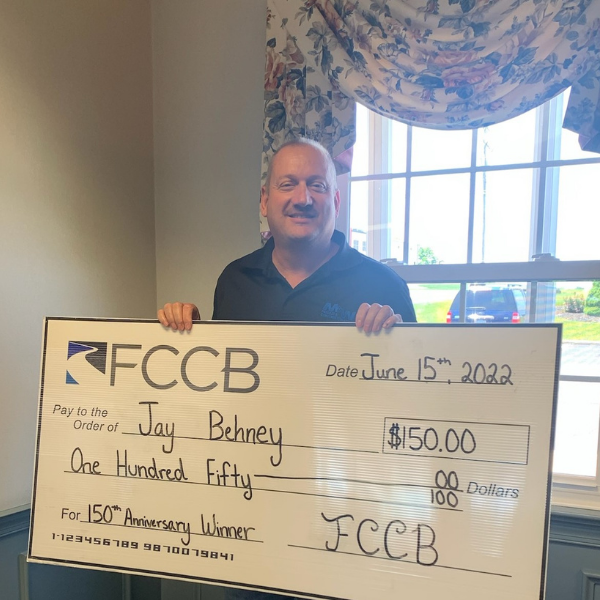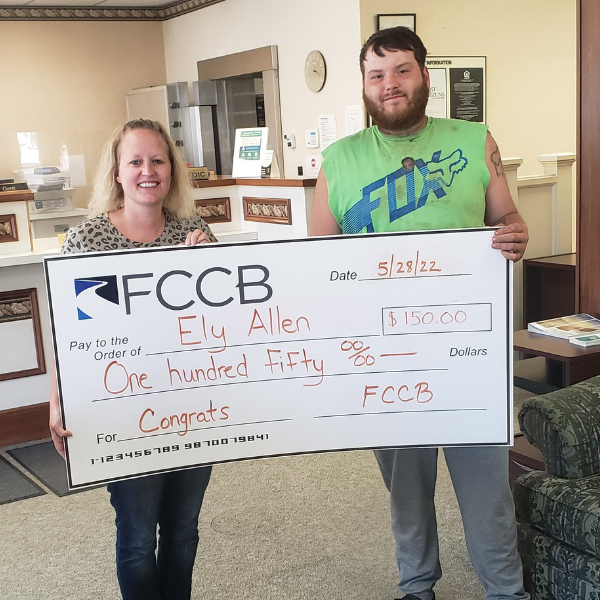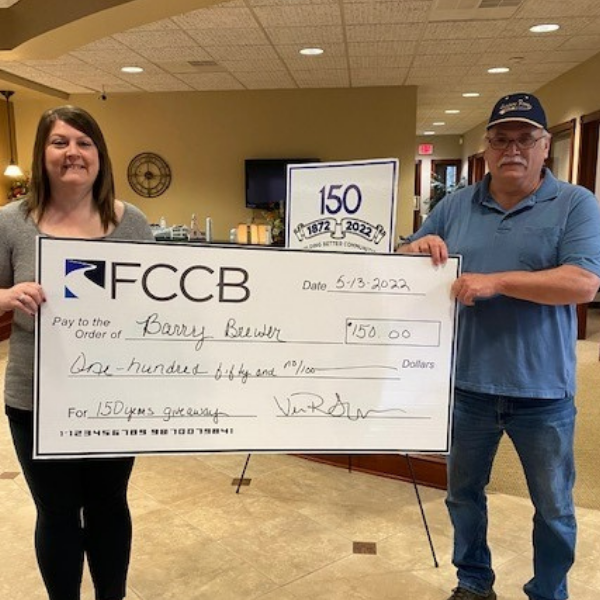 First Citizens Community Bank Celebrates 150 Years of Building Better Communities
This year marks the 150th anniversary of the founding of First Citizens Community Bank, and they've been celebrating this accomplishment by doing what they do best - building better communities.
In addition to their ongoing financial support of many community organizations, the Bank has added a few more fun events to show they really care. They're making quarterly donations of $1,500 to non-profit organizations who help members of the community. Two organizations who have been on the receiving end so far have been the Central PA Food Bank in honor of National Agriculture Month in March and Fill a Glass with Hope, an organization that raises funds that enable food banks to purchase fresh milk directly from their local dairies to distribute to families in need.
Other fun celebratory events included the delivery of 150 bunches of daffodils to residents in two care homes in Tioga County, the donation of 150 trees to fourth-graders in the Canton Area School District for Arbor Day, and a donation of 150 piggy banks to three schools in the Bank's Delaware market in honor of Teach Kids to Save Month in April.
In June, FCCB hosted the 23rd annual Cancer Classic Golf Outing. Over the years, this event has raised nearly $300,000, which FCCB donated to the American Cancer Society. The entire event is planned and run by employee volunteers. Today, FCCB employees still support this annual golf outing with the same enthusiasm and generosity as when it started.
In July, FCCB employees will hit the streets in a month-long community assistance initiative, so give them a wave if you see them picking up garbage, painting structures in your local park or packing food for those in need.
FCCB wants to be sure customers are part of the celebration as well and earlier this year began selecting a customer name each Friday to win $150. And on Friday, July 22nd, all 31 FCCB offices are celebrating their sesquicentennial anniversary with cake, food and prizes. They invite the public to stop by their local branch and join in the fun.
Since its inception in 1872, FCCB underwent three name changes, grew from one office serving one small town to 31 offices in three states, and has grown to $2.1 billion in assets. The ability to remain a profitable, independent community bank for over 150 years is an achievement worth recognizing, especially in light of the fact that the number of banks in the United States has decreased considerably over the past twenty years, from over 7,000 to just under 5,000. "The trust we've cultivated with our customers and communities is key," stated Randall E. Black, CEO and President. "It's vital for our continued success. We hope that our 150th anniversary celebration activities remind everyone that we are grateful for their loyalty and that we are committed to their success as well."