We are headquartered in Mansfield, Pennsylvania, a state rich in agriculture. A significant portion of our markets serve small town, rural Pennsylvania and New York. As you can imagine, we are immersed in farming.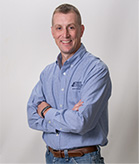 As for me, I'm a farmer at heart. I grew up working on my grandfather's farm, and I still own and raise dairy cows today; however, I'm not the only one with farming in my blood. Our Ag Team has over 350 years' experience in farming and ag banking, a rare combination in any industry. As we've grown, our expertise in swine, poultry, dairy, beef, crops and other agribusinesses has expanded. I feel confident saying we understand what you do and the challenges you face.
Our Ag Specialists deliver relevant knowledge, and their interest in you is genuine. Whether it's expansion, enhancing operational performance or a succession plan for retirement, the FCCB Ag Team can help get you there.
We are supported by Ag Advisory Boards, composed of farmers and other industry leaders who help us stay in touch with the needs, opportunities and challenges of our ag customers. Their guidance is invaluable.
In today's environment, it's important to work with an industry leader. I hope you will give us the opportunity to show you why we've been ranked one of the Nation's top-performing community banks, and one of Pennsylvania's leading agricultural lenders.
Thank you for choosing FCCB,
Randy