Northern Ag Advisory Board Members:

Dean Jackson — Dean and his wife own and operate Mt. Glen Farm in Columbia Crossroads, PA. The dairy farm consists of 920 acres. Cows are housed in a tie stall barn that holds 76 cows. Dean works developing deep bloodlines, raises heifers, bulls and markets semen. He was an FFA State Officer in 1980 and 1981 and an American Farmer Degree winner in 1983. Dean has served in many capacities including President of the PA Holstein Association, director of the Bradford County Holstein Club, the Bradford County Conservation District director, 4-H Leader, and Deacon at Springfield Baptist Church.
Martha Davis Young — Martha and her husband milk 75 Holsteins, raise their own replacements and crop about 250 acres. They own and operate Davi-LeRay Farm, a 4th generation dairy farm in LeRaysville, PA. Martha is church treasurer, part of the NEB Education Foundation and secretary/treasurer for Bradford/Sullivan Farm Bureau.
Dale Hoffman — Dale and his wife own a 750-acre dairy farm in Potter County. Hoffman Family Farm, LLC milks 750 cows and raises 750 replacement heifers and calves. They also lease approximately 1,200 acres. Dale is active in the Tioga-Potter Farm Bureau and has served on many boards including PDMP and Ag Choice Farm Credit. Today there are three generations working on his dairy farm.
Tim Webster — Tim stepped into the role of running the family's 50 cow dairy farm upon the passing of his father. Eventually, Tim made the transition to beef. He currently operates 90 head beef outside of Wellsboro, PA and crops 75 acres of corn, 40 acres of soybeans and 250 acres of hay. Tim has a contract with Myers Natural Beef. He is a member of the Beef Cattle Association and the Tioga County Ag Association.
Phil Rockwell — Phil graduated from Penn State in 1978 with a Bachelor's Degree in Biology and Secondary Education. He eventually came back to the family business, H. Rockwell & Son, a feed mill and farm supply store, serving five counties in north central Pennsylvania. Initially, Phil assumed the responsibilities of sales and nutrition, eventually taking the role of President. He has served on the board of Cooperative Feed Dealers, a regional Ag Co-Op.
Gene Kosa — Gene graduated from Alfred State College with a degree in Agricultural Engineering. He is active on the family farm and President of EDKO Farms, operating an 80-cow dairy and beef operation. The farm operates 2,100 acres of land in Potter County, PA and Allegany County, NY. Gene is a Corporate Board member of Citizens Financial Services, Inc.
Southern Ag Advisory Board Members: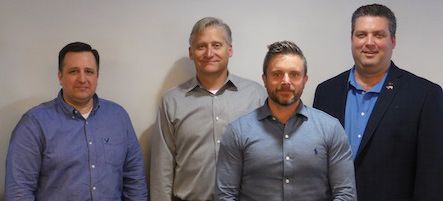 Delvin Martin — Delvin is co-owner and President of Stevens Feed Mill, Inc. His grandfather and father worked at the mill, and as a teenager Delvin joined them. In 2013, he invested in the company. He has been involved in agriculture his entire life, and lives with his wife and five children on their Lancaster County farm, primarily raising pigs.
Chris Pierce — As President of Heritage Poultry Management Services, Inc., Chris has worked with local businesses and the Pennsylvania egg industry for over 30 years'. His company is focused on supporting the needs of all types of egg production, both traditional and non-cage egg production. He is committed to ensuring the egg industry provides for the care and well-being of egg-laying hens.
Peter J. Hughes — Peter grew up on a 2,500-acre wheat farm in Washington state. After graduating with a degree in Natural Resource Science and Biology, Peter moved to Australia, where he worked on a 25,000-acre crop and sheep farm. In 2000, Peter joined Brubaker Consulting Group in Ephrata, Pennsylvania as project leader. He also served as manager of the company's geographical information system and nutrient management division. In 2001, Peter formed Red Barn Consulting with his wife, Molly, a professional engineer. Red Barn is an agricultural consulting and engineering firm based in Lancaster, Pennsylvania assisting over 1,200 farmers to exceed water quality standards through on-farm nutrient control.
Chris Hoffman — Chris owns and operates a variety of organizations including Lazy Hog Farms, a 1,400 sow farrow-to-wean operation, a 4,800 head nursery barn and 4,400 head finishing barn located in Juanita County. He also operates Lazy Chick Farms, raising 250,000 chickens annually. Chris has a long history of leadership, serving as the Pennsylvania Farm Bureau's Vice President, leading the Agricultural Promotion Committee. He also chairs Pennsylvania's Nutrient Management Advisory Board and is a member of the PA Pork Producers Council and the Penn Ag Industries Association.
Brent M. Copenhaver — Brent graduated from Ohio State with a degree in Dairy Cattle Production and Management. He worked as an assistant herdsman for Caristone Farm, LLC. and custom-raised hundreds of heifers for other dairymen. In 2007, Brent invested in Villa Dale Farm, LLC. where he helps manage a herd size of 260 cows and 245 heifers while cropping 240 acres. He is an avid supporter of local 4-H and FFA activities and the local county fair. (Not included in photo)
Robert Brubaker — Robert and his wife Andrea's home farm is located north of Manheim, outside of the small town of Mastersonville. This farm is the site of a sow unit and pullet house. He also owns other properties with a total of eight broiler houses on contract with Tyson Farms, and a large 19,000 duck growing barn. Robert is actively involved in the production of pullets, pigs, broilers, and ducks. In addition to his agricultural pursuits, Robert invests in residential rental properties. Currently, Robert and Andrea are working on the succession of their farm by bringing their two sons into their agricultural ventures. (Not included in photo)